Inclusive Stretching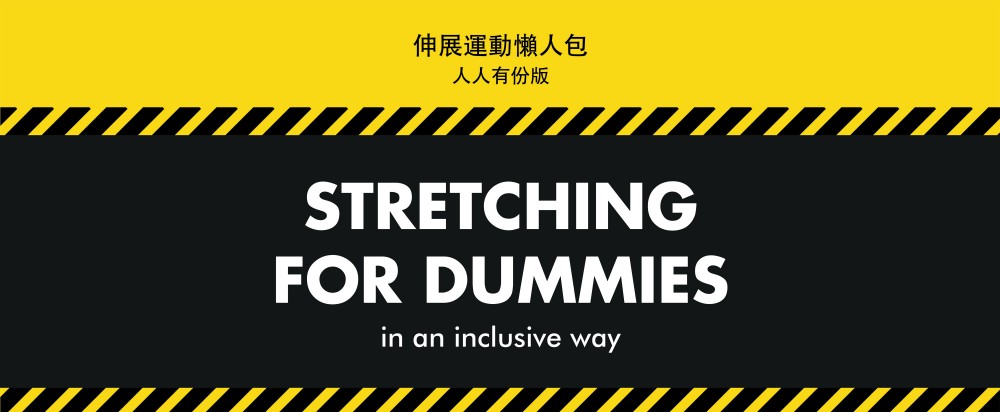 Being stuck at home for prolonged periods of time. Sitting in front of the screen for classes, meetings or work. Knowing it's a concern for having low levels of physical activities. Realizing your body and mind are reacting in a certain way with aches, tight muscles or deprived sleep.

What can we do? Stretching!

Even with limited space and no special equipment, you can still enjoy the benefits of regular exercising by taking a short active break and stretching your body (along with your brain) at home. From newbies to stretches to yoga masters, a regular stretching routine helps increase the range of motion, improve posture, and relax our mind.

We proudly present to you these four video clips of handy stretches in a series, to remind you of self-care -- and we are trying to include everyone by adding bilingual subtitles and Hong Kong Sign Language. On top of the stretches demonstrated by the Hong Kong's first coach with visual impairment, Mr Chiu-kin Tsang, and his partner Ms Joan Cheng, each clip concludes with their personal sharing on inclusiveness.

長時間在家上課/工作、坐在螢光幕面前、擔心沒有足夠的運動量、發現身體出現不同程度的警號,可以怎麼辦?試試伸展運動!即使空間有限,且沒有運動器材,你可以隨時在家伸展一下身體(和大腦),享受運動帶來的好處。無論你是個伸展新手,抑或是瑜伽高手,適量的伸展可以幫助你增強柔軟度、改善姿勢和放鬆心情。短片由香港首位視障私人伸展導師曾昭健先生及其拍檔鄭慧琼女士親身示範,並包含他們的個人分享。我們希望透過這一系列共四條影片,提醒大家適時關心自己。當中亦加入中英雙語字幕及香港手語傳譯等共融原素,讓科大各員都能參與。
About this project 有關這個項目